Browsing all articles in Reviews
Here is MerriMobile's review on our woPad i8:
Wow…! WoPad i8 is finally here… WoPad recently just unveiled its most reviewed 2nd generation seven inch tablet to date. Now the woPad i7 sheds its skin to give its new entrant woPad i8 a new life into the tablet revolution that is very real.
At this stage woPad i8 is still seen as a real iPad competitor or a challenger so to speak – in fact the main products used in woPad i8 begin with 8-inch high score screen,  which improves the user experience. While sharing the same screen resolution as the iPad, which is very helpful in showing a superior effect; its screen's 4:3 ratio is suitable for light weight and reading compared to the iPad's hand-held dexterity. According to woPad i8 actual performance point of view,  its screen may not pull a high score; but its fluency is improved, with a smoother video playback at 10180P and can decode Full HD video formats, integrated -GC800 graphics processor, and also better game performance.
What's more, its configuration includes; RK2918 processor, android2.3 system, 512M memory, 1G frequency, 4G memory, 8-inch 1024 × 768 capacitive touch 5-point, front and rear camera, video chat, support for HDMI output. And look what we have here…, it supports FLASH! That I promise you won't find on an iPad. We haven't gotten to play with the device yet, but we will give you a detailed review as soon as we do.
Read the original:
WoPad i8 Android 2.3 Tablet Review | MeriMobiles.com
Here is the review of our newly released woPad i7 on SlateDroid by Roman:
Original source: http://www.slatedroid.com/topic/21423-wopad-i7/
Posted 29 August 2011 – 04:19 PM
Okay, I just got my WoPad device via DHL about 30 minutes ago… My supplier is wicked fast. I ordered on Thursday night and I got today on Monday
. here is a quick rundown on my impressions of everything thus far…
Packaging – Nice… looks professional
, sweet color graphics on the box. Although the picture of the tablet on the top of the box is a different device lol… Overall a plus though.
Accessories – Headphones SUCK! (big surprise… or not… I didn't have any expectations anyhow…) They include a screen protector (and not the crappy pre-installed one, but a separate apply-it-yourself screen protector… this is a plus… of course I haven't tried using it yet
… Power Adapter… cheap but I am sure it will work. At least it is probably easy to replace
… USB cable is your standard fare…
Device – So far I am fairly impressed…
Each out of 5 stars…
Physical – 3.0 Stars
It is a little bit bigger than the RENA3 all around. Same width, slightly thicker (although I will comment on this in a moment), slightly taller. Despite being a little bit thicker than the RENA3, it actually feels thinner in the hand because of the shape of the device. This is a plus. Also, the back IS NOT PLASTIC… At least it sure doesn't feel like plastic. It is extremely rigid and it isn't glossy. This is a HUGE plus and the main reason it earns 3 of its 3 stars on the physical… Speaker placement is good, hands don't block them when holding the device and the mesh grilles look nice.
a. I/O (input output) Full Size USB port… another BIG plus. No stupid adapter needed to plug in a mouse or keyboard or hub. Just a standard size USB
… It also has a Micro-USB port to connect the device to a pc… Power Connector… Headphone jack… Micro-HDMI out…. MicoSD card slot. I/O looks a "little" bit cheap. For example, the Full size USB port doesn't match up "exactly" with the outside of the case. I am nitpicking a bit but it is noticeable. However, it is important that I note that it doesn't hinder its function. Also, HDMI-out works, almost perfectly (except the screen on the device goes black but HDMI-out works really well) and this is a HUGE plus in that it seems the manufacturer actually put time into the firmware! Amazing… My only problem is that the connection doesn't feel very secure and if if the cable isn't placed into the device "just so" then the colors on the screen it is outputting to go awry. Overall, the HDMI "loose connection" issue AND the I/O ports looking just a little bit off… I dock half a star…
b. Buttons – Across the top – Power, Menu, Back… I would knock a partial star off for NOT having physical volume keys but I am already docking enough points in the next section and some would argue that physical volume keys are a personal preference. Anyhow, I wish they were there, but they aren't. I also wish the back button was on the front face like pretty much every other android device. It is annoying in that it is on the top edge but, oh well. The buttons all "feel" good and are fairly solid. I think I will eventually get used to the placement of the back button and it won't be that big of a deal. This setup IS probably preferable to the UBER sensitive capacitive buttons on the front of the RENA3.
c. Overall Build Quality – Here is why it isn't a 4.5-star… The front face of the device doesn't feel extremely "secure" with the back aluminum shell. It feel just a tiny tiny bit loose. So, slightly cheap feel on the front… If I "try" to "bend" the device the front face will start to come up at one of the corners… Not COOL… I should note that this only happens if you are actually trying to bend the device… but it isn't taking much pressure. I worry that if I were to say… drop the device from 2 or 3 feet up (like off of my kitchen table) and a corner of it hit the ground that the front face would "pop out" I am only docking 1.5 stars for this as the device overall looks and feels good… But it is obvious that build quality could have been a little bit better… perhaps super glue or stronger plastic snaps would have helped? But then it is probably easy to get into so that might be a plus for the hacking community.
Performance – WOOT! 5 Stars – First thing I noticed… Decently QUICK boot-up. Like 25 – 40 seconds max. WAY BETTER than the 90 seconds on my previous RK2918 device. This is a HUGE positive as it makes the device much more usable all around. Touchscreen response is EXCELLENT. Easily as good as the RENA3. The Android UI is ridiculously smooth. I haven't had much time to test internet browsing yet but I have high hopes based on the phenomenal UI experience. This is what I expected from the first RK2918 device I had but it just didn't quite deliver… I did try out heavy gunner. (I ran into an odd issue with the keyboard where the "enter" key disappeared and was replaced by a smiley key… this kept me from getting into heavy gunner which also has the poor design of requiring you to enter a name into a box that has no "okay" button under it to confirm. So without an enter key on my keyboard and without an okay key in the game I was literraly stuck and had to force a device reboot lol, I replaced the built-in keyboard and this fixed the issue) Heavy Gunner is PHENOMENAL on this device. It is fast, responsive and the graphics look great. I will discuss this further in another section. I *might have to lower this slightly after playing with web browsing some more. That was a BIG complaint I had against the other RK2918 device. Web browsing was NOT as smooth as it could be. This was web page loading speeds AND scrolling/pinch-to-zoom. I haven't used this device enough yet to say yay or nay yet though. The one or two pages that I did look at felt better than how things were on my last RK2918 device but they did not feel as smooth as the RENA3.
WiFi – 5 Stars – Stable, Strong Signal
WiFi has been pretty good today. To clarify it is WiFi "N" not just "G". It says this explicitly on the back of the device. This is really good news as I run an "N – Only" network at my house. I was thinking I was going to have to slow the whole network down by changing back to mixed mode while I tested this device. Very nice surprise. It connected quickly with my Network. I think I get almost exactly the same signal strength and distance as the RENA3, which I have always considered decent. I live in a 2 bedroom apartment though, so other folk's use may vary. The real test is if I can sit outside and still get a signal. Which I can. It is feint, but it stays connected and I can skim the internet. I know this is all very subjective but I think I can say with a fair bit of assurance that most people won't be disappointed by the WiFi.
Stability/Bugs – Ongoing testing – 4.5 Stars
Also.. I am impressed by the fact that this thing has been ROCK SOLID STABLE. No crashes, no hangs when waking up from sleep. Today is going to be my first full day of use with it. So far I have used Google Reader (which has a bug that screw up the lettering in article previews, this is specific to this tablet as I do NOT have this issue on the RENA3) and I have played a game. The bug with google reader is annoying to say the least and it makes me wonder about other apps. The built-in Android keyboard not having an "enter" key in some circumstances was NOT GOOD. I am not using the built-in keyboard anymore. For the time, I am docking a half-star for all of this. The WoPad people however should really be commended. It is so rare for a new China Tab device to be so stable and to work so well. For comparison, the RENA3 is still really a "3.5star" device in this area. Overall the RENA3 is stable, but it still freezes on occassion or it can't be brought out of sleep. This is rare, but it still happens enough to be bothersome. I haven't gotten any indication that I will have those kinds of issues with this device. The RENA3 has come a long way though, it was probably more like a 2.5 Star device at release on my "subjective scale of how I feel about things"
Boot times were MUCH slower today. Like around 70 Seconds. This is very noticeable when put next to the RENA3 which boots in roughly 20 seconds. I hit the power buttons on both at the same time, the RENA3 boots much faster. I am not sure why the increase in boot times? Perhaps because I have added an 8gb SD card and installed some apps? This also is why i am docking half a star.
by JULIE on JANUARY 17, 2011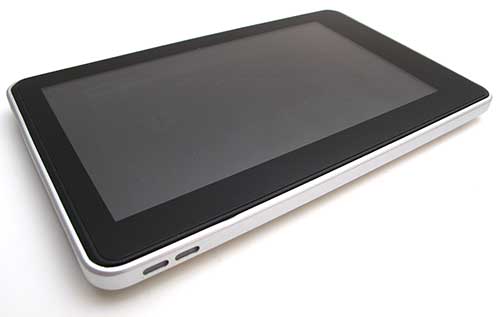 Android fans looking to purchase a tablet might think that their only real choice is the Samsung Galaxy Tab. But what do you do if you aren't interested in paying another monthly fee for data access? Are there other alternatives? Of course there are and today I'm going to show you one that is priced at less than $200. It's the WoPad WR701 7″ Capacitive tablet running Android 2.1 (aka Eclair).
Note: Some images in this review can be clicked to see a larger size.
I want to start this review by saying that I'm not quite sure about some of the specs listed below. The info in the manual that came with the tablet differs from the specs listed on Now Supplier's site, who sent me the tablet for review.
Hardware Specs
Processor: Rockchip TR718D
OS: Android 2.1
Storage: 2GB-16GB Flash,SD/MMC/TF card,up to 32G.
Memory: 256M DDR2.
LCD : 7 inch Capacitive touch screen,resolution 800*480.
USB: USB host,usb device.
Network: Wifi b/g
Size: 237mm*125mm*14.33mm
Battery: 3000mAh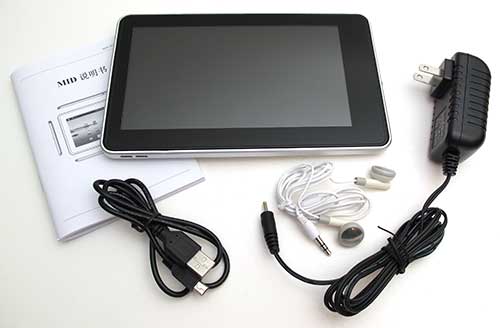 Package Contents
WoPad
AC adapter
USB cable
Earphones
User Manual
Hardware Tour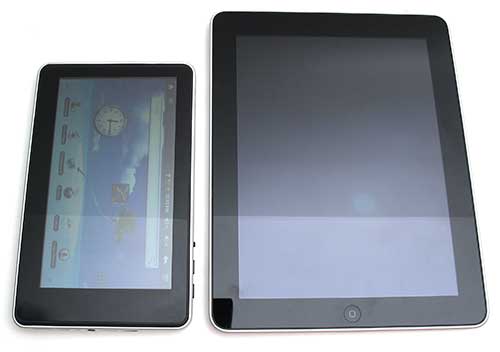 The WoPad is a 7″ tablet. For size reference, here it is shown next to theiPad. The comparison between the WoPad and iPad doesn't end at their physical dimensions as we'll see in a bit.
As far as the physical hardware goes, this tablet looks great and feels equally great in hand. It is solid and has a nice heft to it. If it had an Apple logo on the back, I would seriously believe it was a mini iPad. It feels that nice.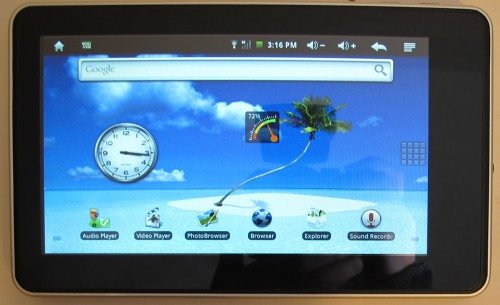 This tablet's display is multi-touch capacitive. That means you don't need to press hard or use a stylus. It also means that it supports pinch and zoom gestures in compatible applications. The resolution is 800×480 and looks pretty good. It's not as good as the iPad or the Samsung Galaxy though. Text in the web browser can appear a little pixelated until you zoom in. That said, colors are vivid and watching video is enjoyable.
The front of the device has no buttons. It's all glass with a Black bezel. The right side of the bezel is wider than the left side, which seems odd to me…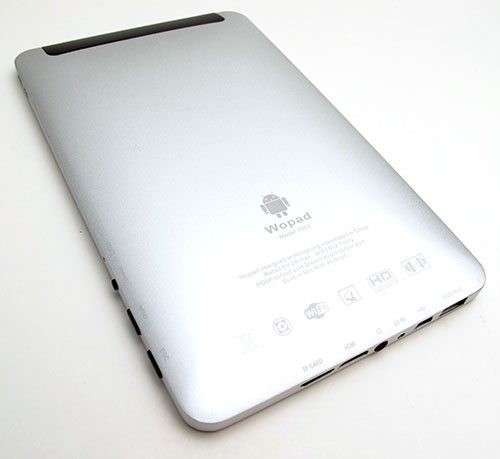 If you flip the WoPad over, it will totally remind you of the iPad. The casing is a similar brushed aluminum with a rounded back.
You'll notice the Black bar along the top edge. As far as I can see, this isn't an access door for the battery. I can find no way to remove it, so I'm thinking it might be the location for the WiFi antenna.

Let's take a look at the buttons. On the top edge (if you orient the tablet in landscape mode), you'll find the Esc button (functions like a Back button), Menu button and the Power button. Next to the power button is a reset hole. At the other end is a speaker grill.

On the right side is a full sized USB port, mini USB port, AC adapter port, earphone jack, HDMI output port and a microSD card slot.
Why did I cross out the HDMI port? Because there's no connector behind it. It's just a cutout in the case.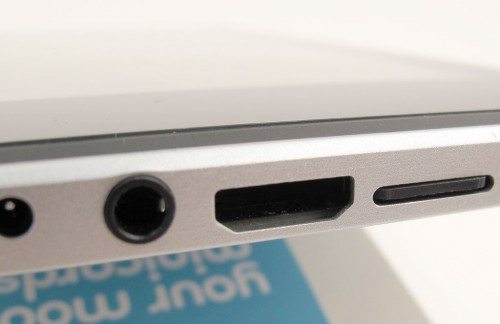 Click the image above to see a bigger view. Even though the box, the manual and even Now Supplier's website clearly mentions that this tablet has an HDMI output, it really doesn't. I shined a flashlight in the opening and there's no connector in there. Trust me…
Update: Now Supplier tells me that their first batch of these tablets arrived without the HDMI connector, but that subsequent tablets have one. They have since removed the info on their site that this tablet has that connector…
There might not be an HDMI connector, but it's pretty cool that there is a USB host port. You can use this port to connect a USB flash drive or a USB mouse. I tested both with great success. I was even able to watch a movie directly from a USB flash drive. Attaching a USB mouse is really cool too. It will actually put an arrow cursor on the display when you plug in a mouse, that you can move around just like do on your regular computer.
You might be wondering what the mini USB port is for. It works perfect for charging the battery if you don't want to drag the AC adapter with you.

The other side of the tablet has a matching speaker grill.
Software
The WoPad is powered by Android 2.1, which is relatively new. But here's the thing, it can't be updated as far as I know and it doesn't have a full version of Android 2.1. I noticed right away that it was missing some of the core Android apps like the Calendar, Contacts, GMail and Google Maps.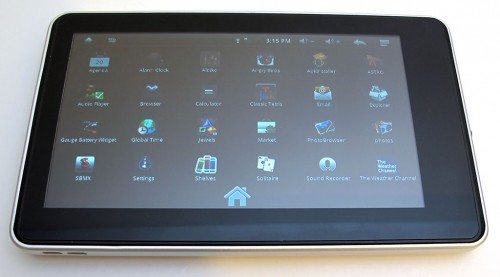 The included apps are:
Alarm Clock, ApkInstaller, Audio Player, Browser, Calculator, Email client, File Explorer, Global Time, Market, PhotoBrowser, Photos, Settings, Shelves (ebook reader), Sound Recorder and Video Player.
Yep, that's it… But the great thing is that it includes the real App Market app. The bad thing is that some of the apps don't seem to work very well with this tablet. I downloaded several games like Angry Birds, Classic Tetris and Unblock Me and I often had lock ups (Angry Birds) or weird onscreen button issues that didn't allow me to play the games.
Other apps worked fine, so it's a toss up as to which ones will or will not work well with the WoPad.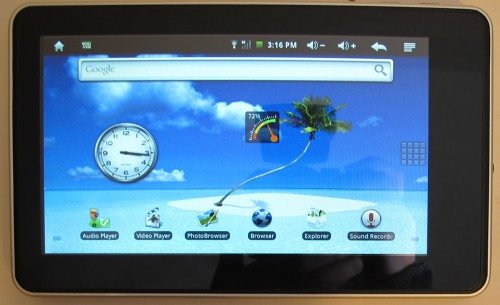 You'll also notice the extra icons on the status bar at the top of the display. In the left corner is a little house which takes you back to the Home screen. Then on the right side are volume buttons, a back button and a menu button.
Battery Life and Performance
One of the first things I noticed about the WoPad was that battery life was really short. I charged the tablet over night and unplugged it at 6:30am the next morning. I then took it with me to work where all I did all day was press the power button every so often to check the battery percentage (I had installed a battery widget that puts the percentage in the status bar). I was really shocked to see that the battery had drained down to less than 20% by 8pm that same day without even actually using the tablet.  Looking at the battery usage info showed that 77% of the battery was being used by cell standby. What's odd is that I didn't know that this table has a cell radio and according to the settings, it's not turned on. As a second test, I turned off the WiFi radio and tried a similar test. Results were very much improved. For a third test, I turned off WiFi and played an .AVI video file from an attached USB flash drive for 1hr. At the start of the test, the batter was at 90% at the end of the test the battery was at %68. The moral of the story is to disable WiFi whenever possible. But that sort of defeats the purpose of a tablet.
As far as performance, the WoPad isn't nearly as snappy as the Samsung Galaxy Tab. Applications can load slowly and web pages can seem to load slowly too. Video playback of 720p video files is smooth though, with no stuttering.
I really like the look and feel of this device. The display is nice for video and the ability to connect a USB flash drive or a mouse is a great feature. At less than $200, the WoPad would appear to be a bargain, but I find it hard to recommend buying one due to the fact that a lot of the apps that I tried didn't work and battery life with WiFi use is also a real concern. The WoPad has a lot of potential as an alternative to the big boys, but until these issues are fixed, I would suggest that you look elsewhere unless you just want to run the included apps.
Original source: http://the-gadgeteer.com/2011/01/17/wopad-wr701-7-capacitive-android-2-1-tablet-review/
Trackpad and woPad are compared in this review video.
The Wopad Android tablet gets a multi-touch capacitive screen, light-weight, great design, and a low price. Welcome to the second generation of Android tablets!
Earlier this year if you wanted a reasonably priced tablet the only options you had were the iPad or one of the numerous Chinese made Android tablets. The Chinese firms having no competition had an easy time of it so settled with making iPad clones with lower specs and poor (for the purpose) resistive screens.
Fast forward a few months and we have  the introduction of the Samsung Galaxy tablet, Archos tablets and the soon to be released Blackberry Playbook not to mention the iPad 2, if the Chinese tablet manufacturers want to stay in the game they realized they would up the stakes.
The Wopad represents the first wave of stake raising specification enhanced Android pads available at a very affordable price.
The major upgrade on this woPad tablet is the capacitive screen (the same technology used in the iPad and Galaxy Tablet) not only does the screen respond better to finger tip controls, but it also offers multi-touch input. The new screen also gives the Android O.S are more grown up feel rather than the 'it will do' feel of previous Shenzhen made tablets.
The visuals on the Wopad are also a far cry from the previous generation of Android tablet with crisp text and vibrant colours.
Internally there's the ever popular Rockchip RK2818 CPU clocked at 600 Mhz with 3D acceleration, 256 Mb RAM, 4 GB of internal storage (external SD card reader) and a 3200mAh battery. There's also a HDMI out to play HD video over a TV too.
The screen really brings this little tablet alive, the system responds smoothly and in a snappy fashion, plus the accuracy of the capacitive makes it a joy rather than a chore to use .
One oddity I would like to mention is the Android 2.1 O.S! Why not spec the machine with the latest 2.2 system rather than leaving consumers to go through the trouble of upgrading it themselves?
Besides the slightly out of date O.S the Wopad has everything going for it, low price, low weight (380g), very portable size and a great screen! If this is the bench mark for the second wave of Chinese Android tablets the big boys may have some worrying to do!
Search the site
Shopping Cart
Buy our tablets with factory price
Partner's Products
What Happened Recently
Random Testimonial
~ AMAZING!!!

5.0 out of 5 stars AMAZING!!!, August 22, 2011

This review is from: woPad i7 (woPad 2, woPad Rockchip 2918, 7" capacitive android tablet with aluminum enclosure like iPad 1)) (Personal Computers)

I have found this product to be extremely useful. It has a wonderful user interface that even my 9 year old has easily figured out. I see myself using this product for many years to come. Thank"